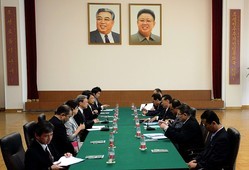 Japan to lift some sanctions on North Korea
Sanctions will be lifted on 4 July

July 3rd, 2014 

Kosuke Takahashi

Tokyo will partially lift unilateral sanctions on North Korea on July 4, in exchange for an investigation by the DPRK into the fate of Japanese citizens abducted by North Korean agents decades ago, the Japanese government announced on Thursday.

The news comes after a meeting between Prime Minister Shinzo Abe and some of his key ministers on Thursday morning to assess Tuesday's talks in Beijing between Japanese and North Korean government officials.

It was agreed that the sanctions will be lifted on 4 July effectively, when the North Korean government will set up an investigation committee.

"(We) have judged that an unprecedented system was formed (by North Korea) by putting at the forefront national decision-making bodies like the National Defense Commission (NDC) and the Ministry of State Security," Prime Minister Abe told a nationally televised press conference on the same day.

The NDC is North Korea's highest branch of government and the nation's supreme policy-making organization. Meanwhile, the Ministry of State Security is known as a secret police organ. Both organizations are directly linked to North Korean leader Kim Jong Un.

"Based on the principle of 'action for action,' (we) would like to lift some of the sanctions Japan has imposed (on Pyongyang)," Abe also told reporters. "But this is just a beginning. We are determined to make our best efforts toward a full resolution (to the abduction issue)".

The Japanese government got briefed by North Korea that So Tae Ha will be the chairman of the special committee to investigate Japan's abduction issues. So currently serves as councilor in charge of security at the National Defense Commission as well as a vice minister in the State Security Ministry.

The North Korean side said it will also set up four subcommittees to deal with abductees: missing Japanese, Japanese spouses of North Koreans, and the remains of Japanese military and civilian personnel who died on the Korean Peninsula in the closing stages of the Second World War. The subcommittees will have branches in each province and municipality.

The Japanese side will lift three sets of unilateral sanctions, as agreed during the two nations' official talks in Sweden late May:

Restrictions on visits of persons;

Mandatory reporting to the Japanese authorities of money remittance above 3 million Japanese yen ($30,000) and cash transfer of more than 100,000 yen carried by visitors;

The embargo on the entry of the DPRK-flagged ships with a humanitarian mission into the Japanese ports

Other sanctions, such as the total ban on the import and export of Japanese goods to North Korea, were not agreed.

North Korea's Mangyongbong-92, a mixed passenger-cargo ferry running between Wonsan in North Korea and Nigata and a symbol of a once-massive flow of goods, people and cash between the two countries, was not included in the deal, despite Pyongyang's request.

Chief Cabinet Secretary Yoshihide Suga on Thursday said at a separate press conference that Tokyo "shares the recognition with North Korea" that Pyongyang will produce its first report of the probes into the abduction issue sometime from late summer to early autumn.

The father of one of the abductees, Mr. Shigeru Yokota, told reporters Thursday that "although it may take a little more time, unlike the past probe the coming investigation may produce some effects," saying that "I want the Japanese government to do well in dealing with the North".

His daughter Megumi Yokota was kidnapped by North Korean agents on her way home from junior high school in 1977 at the age of 13.

The kidnapping of Japanese citizens by North Korea is a highly emotive issue in Japan – Tokyo claims North Korean agents kidnapped 17 Japanese citizens in the late 1970s and early 1980s, of which five have been returned and 12 are unaccounted for.

Pyongyang has admitted that its agents had kidnapped 13 Japanese nationals, including Megumi Yokota, and has claimed that eight are dead and that the other four never entered the country.

Japanese advocacy groups believe that the number of abductees is actually far higher than the government's official account and that the total number is about several hundreds.

The abducted Japanese are believed to have been forced to teach Japanese language and culture for agents' covert operations against South Korea.

Diplomatically, the U.S. and South Korea remain cautious about Japan's often unilateral approach towards Pyongyang before North Korea's nuclear weapons and missile development plans are dealt with.

Kenji Fujimoto, a personal chef that served late Kim Jong Il for 13 years, has repeatedly told NK News that Kim Jong Un is pro-Japanese because his mother Ko Young Hee was born and raised in Osaka, Japan. "He is no doubt pro-Japanese," Fujimoto said on Wednesday.