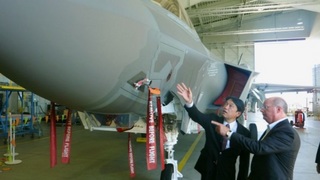 Onodera was given a tour of Lockheed Martin's F-35 facility in Fort Worth on 8 July. Source: PA
Onodera says Japan may buy more F-35s 'if price comes down'
Kosuke Takahashi, Tokyo and James Hardy, London - IHS Jane's Defence Weekly

09 July 2014

Japanese Defence Minister Itsunori Onodera on 8 July said Tokyo will consider buying additional Lockheed Martin F-35 Lightning II Joint Strike Fighters should the cost of the aircraft come down.

"If each country expands manufacturing capability [of F-35s] and increases production volume, this leads to the reduction of the unit cost," Onodera told reporters after visiting Lockheed Martin's fighter production plant in Fort Worth, Texas. "In such a case, it's important to think twice about the total volume."

National broadcaster NHK reported that Onodera was told by Lockheed Martin officials that the company will begin assembling the first F-35s for Japan in August.

The Japan Air Self-Defense Force plans to acquire 42 F-35A conventional take-off and landing variants of the aircraft. The Japanese Ministry of Defence (MoD) has already reached an agreement with Lockheed Martin to buy six F-35As and JPY63.8 billion (USD627.2 million) was earmarked for the purchase of four F-35 jets this fiscal year.

Meanwhile, a senior MoD official has told IHS Jane's that some of the six Japan Maritime Self-Defense Force and four US Navy P-3C aircraft damaged in February when a facility roof collapsed during heavy snow were unrecoverable.

A senior official at Kawasaki Heavy Industries confirmed to IHS Jane's on 9 July that some of the aircraft were severely damaged, with some wings broken off.

"We can't take out the aircraft from the broken hanger yet," the official said. "We will start that work in autumn. After that, the relevant parties will make the final judgment on which aircraft can be still recovered. Even if some aircraft are recoverable, it is another question on whether we actually restore them or not. Some of these P-3Cs may be old enough to retire."

ANALYSIS

Onodera's comments on the F-35 are a small ray of light during a bad week for the aircraft, which has been grounded following a 23 June fire aboard an F-35A at Eglin Air Force Base in Florida. The F-35A and the carrier variant C-model had previously been temporarily suspended from conducting flight operations over safety concerns, while it remains unclear whether F-35Bs will be able to travel to airshows in the UK as planned.

Meanwhile, on 8 July the Pentagon's Joint Program Office (JPO) overseeing the F-35 acquisition said it had "temporarily suspended" negotiations for the next lot of aircraft and engines.

"Negotiations will resume once the scope of the engine issue and downstream effects are known," JPO spokesperson Kyra Hawn told IHS Jane's . "The JPO would not close the deal with this issue outstanding and any subsequent fixes unresolved."

Despite these issues and the negative publicity arising from an F-35 no-show at the 2014 Farnborough Airshow, the aircraft's existing customers - such as Japan - appear to be happy with the programme's progress so far. One possible reason for this is that the F-35 is the only show in town and has rock solid support from the US Congress, suggesting it will not be cancelled anytime soon.