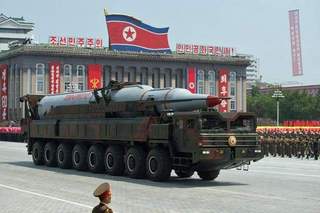 North Korea "imminent threat" to security – Japan defense paper
Japan cites DPRK missile and WMD programme, contributing to "increasingly severe" security situation

August 5th, 2014 Kosuke Takahashi & Hamish MacDonald
Japan concluded that North Korea is contributing to an "increasingly severe" security situation in Northeast Asia, an annual White Paper released on Tuesday said.

The report, which is published every summer by the Japanese Defense Ministry, said North Korea's improving missile capabilities formed part of the increased threat towards Japan.

"The development of weapons of mass destruction (WMDs) and missiles by North Korea constitutes, coupled with provocative words and actions, including missile attacks against Japan, a serious and imminent threat to the security of Japan," the report said.

Citing North Korean state media articles from 2013 that listed Japanese cities within range of missiles attacks as evidence of ongoing and direct provocation, the report argued that "maintaining peace and stability on the Korean Peninsula is vital for the peace and stability of the entire East Asian region".

The paper included an individual section on the Korean Peninsula and provided a detailed assessment of North Korea's military capabilities., including assessments of air, ground, naval and cyber warfare units.

SCUD MISSILES

Significantly, the White Paper mentioned threats from North Korea's KN-08 mobile Intercontinental Ballistic Missile (ICBM) and Scud-ER (Extended Range) missiles for the first time.

The KN-08, which was showcased at military rallys in Pyongyang in April 2012 and July 2013, has a range of between 5,000-6,000km, while the Scud-ER is estimated to have a range of between 800-1000km.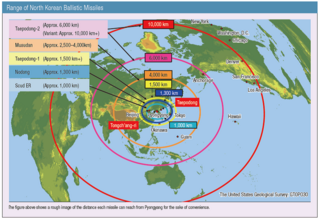 Credit: Japanese Ministry of Defense
"The KN08 is carried by a Transport Erector Launcher (TEL), making it difficult to detect signs of its launch in advance," the paper read.

The report also refers to the 1,000km range of North Korea's Scud-ER, which would bring parts of Japan within striking distance of the missile. However, some observers aren't sold on the Japanese Government's assessment of the Scud-ER.

"Ultimately I am skeptical of that 1,000km range, there seems to be very little hard data publicly supporting it," Scott LaFoy a Washington D.C. based researcher told NK News.

Some news outlets "perhaps latched onto an early mention of 1000km, which would be necessary to strike Osaka, Kyoto, Nagoya, and the outskirts of Tokyo," LaFoy added.

PROVOCATIONS AND PROLIFERATION

The report made much of the fact that North Korea continues to regularly fire missiles and artillery, many off its East Coast towards Japan.

"In both 2013 and 2014, North Korea repeatedly engaged in provocative acts, including the implication of missile launch towards Japan," the report said, adding that the Ministry Of Defence continue to take defensive measures against such launches.

The paper reiterated Japan's stance on North Korea's proliferation activities, saying that the continued attempts to acquire nuclear weapons "constitutes a serious destabilizing factor to the security not only of Japan but of the entire region and the international community."

"Needless to say, North Korea's possession of nuclear weapons cannot be tolerated," the report read.

The white paper also cautioned that further North Korean ICBM and nuclear progress might lead into a false a sense of security, leading to potential "increases in and the escalation of military provocations by North Korea in the region".

The report comes as Japan's Foreign Ministry is increasing cooperation with Pyongyang, aimed at finally resolving the issue of missing Japanese citizens.