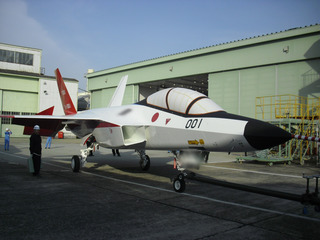 Japanese MoD denies reports of 2015 first flight for ATD-X prototype
Kosuke Takahashi, Tokyo - IHS Jane's Defence Weekly

12 August 2014
The Japanese Ministry of Defense (MoD)'s Technical Research and Development Institute (TRDI) and Mitsubishi Heavy Industries (MHI) have both dismissed news reports that the Advanced Technology Demonstrator-X (ATD-X) fighter prototype will make its maiden flight in January 2015.

The Mainichi Shimbun newspaper reported on 12 August that MHI had decided to conduct the first flight of the ATD-X, a prototype for a future fighter to replace the Japan Air Self-Defense Force's Mitsubishi F-2, in January. The newspaper did not disclose its source.



The newspaper also said the MoD would make a final decision on whether to proceed with production by fiscal year 2018 after assessing the aircraft's capabilities and cost. It said MHI would deliver the prototype to the MoD by the end of March 2015.

Similarly, Jiji Press on 12 August reported MHI plans to conduct the test flight of the aircraft as early as January, citing a government-related official as its news source.

However, a TRDI spokesman denied both reports to IHS Jane's , saying: "We have not firmed up when the first test flight of the ATD-X will be conducted."

An MHI spokesman: "We didn't announce that. We will decide when to conduct the first flight in consultation with the MoD."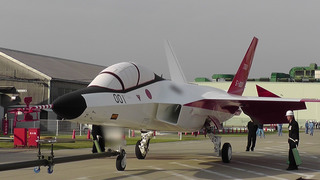 In April Japanese Defense Minister Itsunori Onodera reaffirmed the MoD's plan for a first flight for the ATD-X this year, adding in the Diet that the ministry would decide by FY18 whether to build a future stealth fighter domestically or via international joint development, based on parameters such as technological achievements and cost effectiveness.

The ATD-X, also known as 'Shinshin' meaning 'Spirit of the heart', is being built by MHI's plant at Komaki Minami in Nagoya. It has been designed to be a stealthy air-superiority fighter with enhanced manoeuvrability. The MoD will use it to research advanced technologies and system integration, after which it plans to produce a 'sixth-generation' fighter encompassing i3 (informed, intelligent and instantaneous) concepts and counter-stealth capabilities.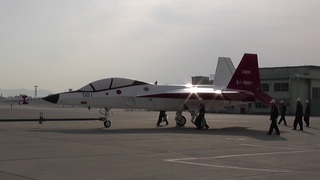 Meanwhile, the TRDI on 12 August released four photographs of the ATD-X taken on 8 May. In the images, some parts of the landing gear and exhaust slots have been blurred.

Related articles:
•Japan's indigenous stealth jet prototype 'to fly this year'
•Japanese MoD requests USD55 million for first flight of ATD-X prototype

(377 words)