I think the world is beginning to wonder what kind of education China gives its children about Japan.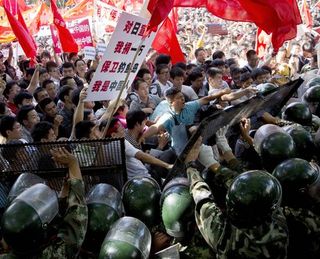 It's so surprising to see more and more young Chinese who have had no war experience with Japan becoming stronger anti-Japanese or Japanophobia.
My Chinese friend, who is also a journalist, said to me that those protests were not only anti-Japanese rallies but also a reflection of China's domestic problems.
The friend said young Chinese are not satisfied with their lives at all.
"For example, they cannot buy a house even if they work hard," my Chinese friend said.
"But a Chinese woman only wants to get married with a guy who already has a house," the friend said.
The Chinese media are also responsible for what have happened on the streets across China.
They cannot criticize the Chinese government at all.
They just act on the government's behalf.
Don't get me wrong - for my part, I have criticized Japanese right-wingers such as Shintaro Ishihara a lot. Tokyo eyes prime island real estate
No doubt and no wonder, strained relations between China and Japan give negative impact on other Asian countries.
I was hoping we could mend our fences and bury the hatchet when the pro-China administration of Japanese Prime Minister Yukio Hatoyama was established under the Democratic Party of Japan in 2009.
It was a short-lived dream.
Still, I haven't given up that hope. Let's start to repair bilateral relations from scratch once again.