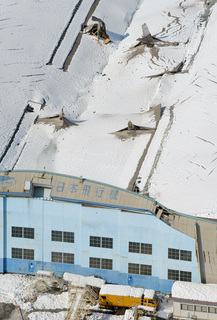 Japanese, US Orions damaged in hangar roof collapse

Kosuke Takahashi, Tokyo - IHS Jane's Defence Weekly

The Japanese Ministry of Defence (MoD) announced on 15 February that six Japan Maritime Self-Defence Force (JMSDF) aircraft as well as four US Navy P-3C aircraft were damaged when record-level snowfall collapsed the roof of a maintenance hangar in Kanagawa Prefecture adjoining Tokyo. The incident happened at around 05.00 (local time) on 15 February.

An MoD official confirmed to IHS Jane's on 17 February that the damaged aircraft were three Kawasaki (Lockheed) P-3C Orion maritime patrol aircraft (MPAs), one Kawasaki OP-3C reconnaissance aircraft, one Kawasaki EP-3 electronic intelligence (ELINT) aircraft, one Kawasaki UP-3D ELINT training aircraft and four US Navy P-3C MPAs. The aircraft were all undergoing periodic mainenance checks and repairs at NIPPI Corporation's aircraft maintenance facility in Yamato City, Kanagawa, when the roof collapse occurred. The maintenance facility adjoins Naval Air Facility Atsugi, which is used by both the US Navy and the JMSDF.

NIPPI Corporation is a wholly owned subsidiary of Kawasaki Heavy Industries (KHI).

The MoD official said that no one was injured by the incident and that the specific damage to the aircraft remains unknown, but images of the site taken from the air clearly show a number of tailfins protruding through the collapsed hangar roof.

"NIPPI is working to determine the extent of the damage and checking the safety of the facility," the MoD official added, while a spokesman for KHI said: "We have asked Kajima Corporation to investigate the safety to get access to the hangar."

He added that NIPPI had a government contract for periodic repairs as a subcontractor for KHI, as well as a regular maintenance contract direct from the US Navy.