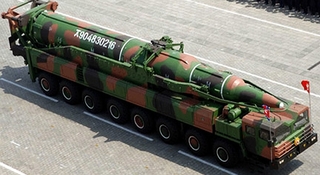 U.S. Defense report casts doubt on reliability of N. Korea missile tech.

Missiles suspected as unreliable due to lack of flight testing

March 7th, 2014 Kosuke Takahashi

North Korea now possesses at least six road-mobile intercontinental ballistic missile (ICBM) launchers, but the missiles paired for their use have low reliability, a new report published by the U.S. Department of Defense (DoD) said on Wednesday.

The missile, known as the Hwasong-13 (or KN-08), has a range of more than 3,400 miles (5,471km) and would be capable of hitting much of the continental United States, "if successfully designed and developed", the report for Congress said.

But because the "extremely complex" missile type had yet to be flight-tested, "their current reliability as a weapon system would be low".

The report, titled "Military and Security Developments involving the Democratic People's Republic of Korea 2013," also appeared to admit the existence of six road-mobile transporter-erector-launchers (TELs) to deploy the missiles, showcased by North Korea at two military parades in Pyongyang in April 2012 and July 2013.

MISSILE DOUBTS

"North Korea displayed what it refers to as Hwasong-13 missiles, which appear to be intercontinental ballistic missiles (ICBMs)" during two military parades in 2012 and 2013, the report said.

But after those parades several Western missile experts suggested the Hwasong-13 missiles being displayed by North Korea were nothing more than mock-ups meant to fool observers.

And in January the Asan Institute, a leading South Korea-based security think tank, said that alleged progress in North Korea's ballistic missile programme – including claims it could now threaten U.S. territory with an ICBM – were overstated.

"We think North Korea does not possess a working ICBM capable of delivering a payload to areas beyond the 3,400 mile radius," the think-tank said.

In addition to questioning the reliability of the Hwasong-13, the Pentagon report also cast doubt on whether intermediate-range ballistic missile (IRBM) technology paraded by North Korea over the past three years was in fact reliable, citing a similar lack of flight-testing as rationale.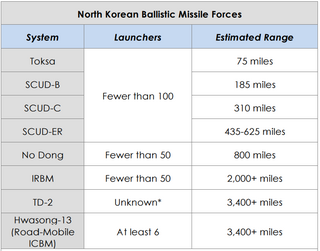 Chart: U.S. Department of Defense


For the first time ever the Pentagon report also said that Pyongyang has deployed an indigenous unmanned aerial vehicle (UAV) capable of attacking ground targets.

"The drone appeared to be a North Korean copy of a Raytheon MQM-107 Streaker target drone," it said. "North Korean press coverage of the event described the UAV as being capable of precision strike by crashing into the target."

The report said North Korea "remains one of the United States' most critical security challenges for many reasons." These include Pyongyang's willingness to undertake provocative and destabilizing behavior, such as attacks on the South.

Main picture: KCNA