Kim Jong Un's younger sister reappears on KCTV

Her name, Kim Yo Jong, called for the first time by North Korean media

March 9th, 2014 Kosuke Takahashi

Kim Yo Jong, younger sister of North Korean leader Kim Jong Un on Sunday reappeared on state-run Korea Central TV (KCTV).

And the state-run broadcast for the first time officially called her full name and title, raising speculation that she will strengthen support for her brother's regime as one of his closest confidants.

This move comes at a time when the Kim family's nepotistic power-grabbing seems to be weakening in the absence of key family members and as Kim Jong Un aims to instill the so-called "lineage of Paektu," the royal bloodline of the Kim family, in his surroundings.

Kenji Fujimoto, a personal chef that served Kim Jong Il for 13 years, on Monday identified that woman on North Korea's state channel as Kim Yo Jong, telling NK News, "That's Princess Yo Jong. No doubt about it."

The state media on Sunday called her "(a) responsible senior official of the Central Committee of the Workers' Party of Korea, Comrade Kim Yo Jong," and said she accompanied Kim Jong Un, who voted at a university in Pyongyang.

The state channel broadcast images of Kim Yo Jong, 26, voting while dressed in a black suit.

She has appeared on TV many times previously, such as at the funeral service for the late Kim Jong Il in December 2011, when she was shown several times alongside her brother.

She is widely seen as taking over the role of her aunt Kim Kyong Hui, wife of the executed Jang Song Thaek, just as Kim Kyong Hui supported her elder brother Kim Jong Il during his rule. Kim Kyong Hui has made no public appearances since September 2013, when North Korea celebrated the 65th anniversary of the nation's foundation. Since then, some South Korean media have speculated she might have already died of a heart attack or even suicide following the execution of her husband.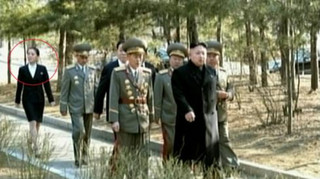 Fujimoto told NK News on the phone on Monday that Kim Yo Jong was "a shrew-like woman and a free-spirited tomboy."

"She cannot proceed with any work related to small details," Fujimoto said. "She was jumping behind her brother when the TV camera was filming him" in the summer of 2012 when Fujimoto was invited by Kim Jong Un to Pyongyang.

Kim Yo Jong studied in Switzerland along with her two older brothers in her adolescence. Fujimoto said the late Kim Jong Il loved her extravagantly.

Fujimoto said she was born on September 26, 1987.

Picture: KCTV