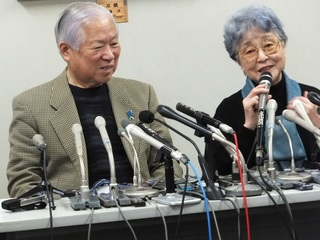 Yokotas recall 'dream-like' meeting with granddaughter

Belief that their daughter, a victim of North Korean kidnapping, is still alive has not wavered despite meeting

March 17th, 2014

Kosuke Takahashi

The parents of Megumi Yokota, kidnapped in 1977 at age 13 by North Korea, were bursting with joy and smiles at a press conference in Kawasaki City, adjoining Tokyo, after finally meeting their granddaughter and great-grandchild.

Shigeru and Sakie Yokota met Kim Eun Gyong, 26, Megumi's daughter at a guesthouse in the Mongolian capital Ulan Bator from March 10-14. Kim Eun Gyong's husband, who is in his late twenties, accompanied her.

Previously, the Yokotas had hoped to meet Kim Eun Gyong only after the abduction issue was resolved. But since Shigeru is now 81 and Sakie is 78, they said they are running out of time and finally decided to meet her in a neutral country.

The Yokotas said it was a "dream-like moment" to spend time with their granddaughter and great-grandchild.

The Yokotas said both Kim and her husband graduated from Kim Il Sung University, the DPRK's No. 1 institution of higher learning, with both studying computer science. He was her senior at the university, the Yokotas added.

The meeting was realized after foreign ministry officials from the two nations discussed it during their unofficial meeting earlier this month on the sidelines of Red Cross talks in Shenyang, China. Foreign ministry officials plan to meet there again this week.

Japan's Prime Minister Shinzo Abe on Monday said the government made efforts to make the meeting happen from a humanitarian perspective and was delighted that the Yokotas finally met their North Korean granddaughter.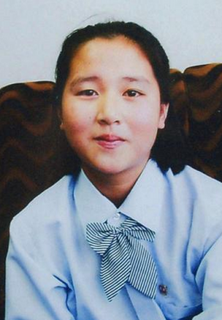 Kim Eun Gyong circa-2002, from a picture taken by a Japanese government delegate
"It gave me a heartwarming feeling," Abe told reporters.

Abe said his administration will continue to make all-out efforts to solve the abduction issue.

Experts on North Korean affairs are now attempting to discern the North's true intentions.

Lee Young Hwa, a professor of economics at Kansai University and a third-generation Korean resident in Osaka, told NK News on Monday that North Korea is still not serious enough about thoroughly resolving the abduction issue.

Lee said that North Korea is approaching Japan and South Korea diplomatically, mainly because the execution of the pro-China Jang Song Thaek has led Beijing to decrease the flow of oil and food aid for Pyongyang since January, exacerbating the Hermit Kingdom's economy.

"North Korea is using its talks with Japan and South Korea to shake China's tough posture against Pyongyang," Lee said. "There may be some progress in Japan-North Korea negotiations, but it will be stalled again once China and North Korea mend bilateral ties."

Lee also said by bringing about a meeting between the Yokotas and their granddaughter and great-grandchild and not addressing the fate of Megumi Yokota herself, North Korea is trying to draw the curtain on the abduction issue as swiftly as possible.

Masao Okonogi, emeritus professor at Keio University in Tokyo and a noted expert on affairs on the Korean Peninsula, echoed Lee's views, saying Pyongyang is approaching Tokyo and Seoul to obtain economic benefits.

"North Korea is stepping up its dialogue diplomacy," Okonogi said. "The North wants to ease economic sanctions from Japan and South Korea."

Japanese experts also said that the North may want to improve its tarnished image, especially after the UN report accused North Korea of crimes against humanity last month. The report includes condemnations of the abductions as crimes against humanity under international law.

The relatives of Japanese nationals abducted by North Korea will also speak at the UN Human Rights Council in Geneva this week. It will be the first time that relatives of the abductees have attended the UN rights council since the abductions came to light.

As for the fate of Yokota Megumi, Sakie Yokota said that her belief that her daughter is alive has never wavered and she will continue to fight for saving all of the Japanese abductees.

North Korea maintains that she committed suicide in 1994, but Japanese experts are divided as to whether Megumi Yokota is still alive or not.

A Russian diplomat has told NK News that Pyongyang has shown Moscow its internal report showing Megumi is already dead. Kenji Fujimoto, late Kim Jong il's former personal sushi chef, also wrote in his book The North's Successor, Kim Jong Un that the head of the Workers' Party of Korea (WPK)'s secretary's office said to him, "Yokota Megumi? Is she alive?" when Fujimoto visited Pyongyang in the summer of 2012 at the invitation of Kim Jong Un.

But Lee said there still is a possibility she is alive, barring conclusive evidence.

The following are excerpts from the Yokotas' press conference on Monday, held at their home in Kawasaki City, adjoining Tokyo.

Shigeru: We have seen images of Eun Gyong-san (san being a Japanese honorific) via TV, etc. many times, but it was the first time for us to meet her.

When I saw her for the first time on TV, she was around 14 or 15. But she has now grown up and became an adult. She is just a little taller than Sakie. She has a round face and therefore I thought that we come from the same family bloodline.

A 10-month-old infant, born last May, was also there. That's our great-grandchild. A baby was walking with a walker at high speed around the table in a room (at a guest house in Mongolia). The baby weighs 11 kilograms, an unusually heavy weight for her age.

It was really very nice meeting them.

We had always hoped to meet her. Since we became old, we do not know when we are going to die. I am so grateful to have such a meeting.

Sakie: Thank you so much for your help. As my husband said, the baby was bouncing off the walls with the walker at high speed. The baby had a smile on her face.

It was a dream-like moment. What we had been hoping for was finally realized. Those were miraculous days. We sincerely thank the many people whose efforts were spent making arrangements for this.

I was very glad. It was very good for us that we as her grandparents could have met our grandchild. It was a wonderful and heartwarming moment.

She looks like Megumi at her young age.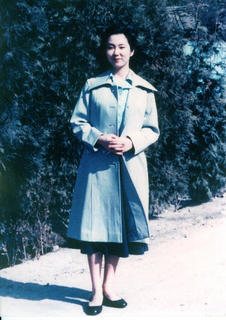 An adult Megumi Yokota, from a picture released by North Korea
Question: Did you receive information about the well-being of Magumi-san from her?

Shigeru: We did not talk about it. Even if she knows, she cannot say.

Sakie: We did not make the meeting a place involving political issues. We just wanted to have a reunion of relatives, so we have decided not to ask about her fate.

That's the same situation before and after we went. There was no new information. I believe she is doing well for sure. My firm belief that Megumi is alive has never wavered.

Question: In an interview, you urged North Korean leader Kim Jong Un to settle the abduction issue as soon as possible after a UN Commission of Inquiry's report on human rights in North Korea was published last month. Do you see any change in Kim Jong Un's stance on this issue now?

Sakie: We do not know what North Korea will be doing from now on. The Japanese government needs to focus on how we should develop our diplomacy. I hope the government will lead in efforts to resolve the abduction issue.

Question: Did you hear about the husband of Megumi-san, the father of Eun Gyong-san?

Sakie: That was not a topic of our conversation. We did not talk about him.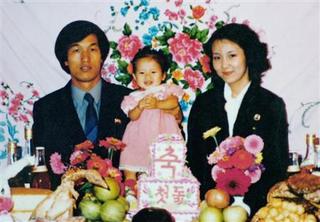 Picture of Shigeru and Sakie Yokota: Kosuke Takahashi