Here is my latest piece in The Diplomat.

Abe's Diplomatic Backtrack

I did not write how to mend strained relations between Japan and South Korea, and Japan and China in my story, but I think the solution is simple.

First of all, let us stop accusing each other. Instead, Japanese politicians and media should try to urge the public to address Japan's past wrongs, possibly including the war responsibility of the last emperor.

Meanwhile, Chinese and South Korean governments and media should encourage their peoples to take an attitude of forgiveness toward Japan because modern Japanese are basically not responsible for the past.

We should make these parallel efforts in Japan, China and South Korea. I know it's not an easy job at all. But that's what politicians and media have to do now in their countries, instead of whipping up nationalism here and there. Unless every nation tries to change the domestic public mindset, situations will never improve after all.

Last December, I went to Israel for 10 days and found Israel and Palestine keep accusing each other almost forever, not understanding the other's domestic conditions. It's easy to accuse the other side, but it won't solve the problem. It's because each nation has its own view.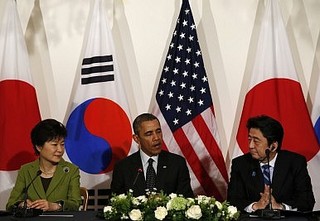 Japan's nationalist prime minister tries to ease tensions with his East Asian neighbors.

By Kosuke Takahashi
April 04, 2014

Having generated considerable turbulence in East Asia with his nationalistic policies, Japanese Prime Minister Shinzo Abe appears to be walking back his reactionary stance on modern history−at least in public. With apparent reluctance, he promised last month to uphold the 1993 Kono Statement admitting culpability and apologizing to the "comfort women" who had been forced to provide sex services during World War II, and the 1995 Murayama Statement apologizing for Japanese colonization and wartime aggression.

These concessions paved the way for Abe to hold his first formal talks with South Korean President Park Geun-hye since the two leaders took office. The meeting was hosted by U.S. President Barack Obama on the sidelines of the Nuclear Security Summit in The Hague on March 25. In addition to lowering the heat, in meeting Park, Abe also enabled Obama to save face as mediator.

However, any signs of diplomatic thaw with South Korea could prove ephemeral as the two nations head towards 2015, the 50th anniversary of the normalization of Japan-South Korea relations and the 70th anniversary of the end of World War II. Both anniversaries will require Abe to issue his own statements; his neighbors will be listening intently.

A Change in Direction

Abe's recent reversal of direction in a political climate of reactionary conservatism that still prevails in Tokyo appears to be a repeat of the toning down of his hawkish stance that occurred during his first stint as prime minister from 2006 to 2007.

Abe entered that first term with a conservative agenda, calling for "a departure from the postwar regime." But just as he has done this time, he gradually toned down public displays of nationalism. In 2007, hoping to repair relations with Beijing and Seoul, which had hit a nadir under his predecessor Junichiro Koizumi, Abe chose not to mark the August 15 anniversary of the end of World War II for Japan with a visit to Tokyo's controversial Yasukuni Shrine, which memorializes war dead, including 14 Class A war criminals such as Hideki Tojo. A severe defeat in the July Upper House elections the month before had forced Abe to place his long-cherished goal of a constitutional amendment on the backburner.

None of this came easily. Abe later said on multiple occasions that he regretted not visiting the shrine during his first term as prime minister. And so it was not surprising that late last year he went to Yasukuni to mark the one-year anniversary of his second term. However, that visit marked the beginning of a series of diplomatic setbacks for Abe, ultimately forcing a change in direction. The fear of Abe and his handlers is that overt historical revisionism will leave Japan isolated, regionally and globally, especially from its most important ally, the U.S. which shocked the Japanese government when it expressed public disappointment over the Yasukuni visit.

A Global Audience

At the start of the trilateral summit in The Hague on March 25, a smiling Abe spoke to Park in front of a battery of television cameras, saying in Korean, "President Park, I am glad to meet you." For her part, Park maintained a stern countenance.

Abe's friendly overture seemed targeted not so much at better Japan-South Korea relations as at his global audience. The Japanese prime minister appeared to be hoping to show the world that his country is always serious about mending strained relations with its neighbors, and that it is rather leaders like Park who are recalcitrant when it comes to Japan.

On March 31, Nikkei Business Magazine reported Abe has often privately complained to his aides about South Korea, specifically its unyielding position on Japan and resistance to a U.S.-Japan-South Korea trilateral meeting in The Hague. "I am fed up with (South Korea)," Abe is reported to have said.

There is a growing view in Tokyo that Seoul and Beijing will continue to step up pressure on Japan on controversial historical issues, even though Abe has accepted the Kono Statement and the Murayama Statement. This view encourages pessimism: no matter what Abe concedes on history issues, Japan's relations with China and South Korea cannot and will not improve in the near future.

Hajime Izumi, a professor of international relations at the University of Shizuoka, certainly thinks so. Speaking at the Foreign Press Center in Tokyo on March 26, he said that South Korea and China are the only two countries that are truly concerned about history and that Japan should accept that "they will just listen to what they want to listen to, and not listen to what they don't want to listen to, no matter what Japan does."

According to Izumi, Japan should instead focus on a global audience to gain broader support. In this respect, it was good for Tokyo to adopt the Murayama and Kono statements, a move that will be pleasing for a broader audience.

Comfort Women

If he is hoping to gain international support, then Abe has made two serious tactical errors in recent months. The first of course, was his visit to the Yasukuni Shrine, which has done extensive harm to Japanese diplomacy and its postwar image as a pacifist nation.

The second mistake is the Abe administration's ongoing review of the 1993 Kono Statement, which acknowledged the mobilization of comfort women by Japanese forces during World War II. It will surely be difficult for the international community to understand why his administration feels it has to review the statement, given that Abe has already publicly pledged to uphold it. The review itself could be regarded by some as a denial of past wrongs, even if it truly does focus on trying to ascertain the historical facts relating to what really happened to the comfort women.

To be sure, more than a few Japanese believe that China and South Korea exaggerate the facts, including the number of victims of wartime sexual slavery. They chafe at the perceived inaccuracy of the historical facts China and South Korea always cite. But for Japan to investigate the historical evidence looks to some as if it is trying to claim innocence. The reactions in countries that were victimized, such as China and South Korea, will inevitably be intense.

For this reason, many experts join Izumi in advising Japan to show some more generosity of spirit, and sincerely apologize rather than trying to quibble over the facts.

The Crash of 2015

Looking ahead, the thorny issue of comfort women is unlikely to abate. For South Korea, this issue is a priority and it wants Tokyo to pay compensation to those women, accompanied by an official apology. Japan's position is that the two nations have already settled the issue on a government-to-government basis in the form of economic cooperation under the normalization treaty in 1965, and it refuses to pay damages.

It's worth noting Abe's own views on the comfort women issue. In one video aired by the Liberal Democratic Party on August 6, 2010, Abe said, "The common thing in both Murayama and Kono statements is that (the statements) disdain Japan as a nation and make (us) slip into self-complacency that (we are) conscientious and kind persons."

"This is an extremely vicious act that damages Japan's national interests," Abe said. "Through the (Kono) statement, (we were) forced to acknowledge that Japan is a terrible country that demeaned women by making comfort women sex slaves. It also became clear that (those women who testified) made a lie."

In accepting the Kono Statement, Abe is today keeping his true feelings to himself, but there is always the risk that−grilled by opposition parties in the Diet−the mask may drop.

Looking ahead, Abe has a few more potential opportunities to meet with both Park as well as with Chinese President Xi Jinping. Meetings could potentially occur on the sidelines of the United Nations General Assembly in New York in mid-September, the Asia-Pacific Economic Co-operation (APEC) summit in Beijing, or the G20 Leaders Summit in Brisbane, Australia both in November. The chances of a breakthrough, though, seem very slim.

Then comes 2015, and the two sensitive anniversaries. In his statements to mark them, Abe is highly unlikely to touch on Japan's prewar history. Instead, he will probably focus on the nation's impressive postwar development and growth. This will again arouse anti-Japanese sentiment in Seoul and Beijing, especially around August 15, when South Koreans and Chinese tend to fan such sentiment.

And once again, seventy years after World War II ended, that tragic chapter of history will enflame tensions across Northeast Asia.

Kosuke Takahashi is a Tokyo-based journalist. His work has appeared in the Asahi Shimbun, Bloomberg, Asia Times, NK News and Jane's Defence Weekly, among other publications. You can follow him on Twitter @TakahashiKosuke