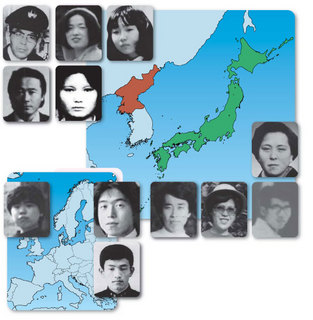 Japan, North Korea wrap up third round of talks without breakthrough
Sale of pro-North Japanese group's building looms as obstacle in abductees investigation

May 28th, 2014

Kosuke Takahashi

Japan and North Korea on Wednesday wrapped up the third round of official talks in Stockholm, Sweden, without yielding any significant breakthroughs.

Government officials from the two nations failed to agree on the start of a re-investigation into Japanese citizens abducted by North Korean agents in late 1970s and early '80s. But they agreed to continue government dialogue.

"We agreed to continue negotiations, but no specific schedule for negotiations was set," said Junichi Ihara, head of the Foreign Ministry's Asian and Oceanian Affairs Bureau, who led Japan's delegation.

The three-day talks followed the second round, held in late March in Beijing. North Korea's delegation has been led by Song Il Ho, Pyongyang's envoy for normalizing relations with Japan.

During the talks, Japanese officials urged that Pyongyang reinvestigate the fate of the Japanese abductees in North Korea. They also called for an investigation into additional missing Japanese citizens who may have been kidnapped by North Korea.

The Japanese government has confirmed that North Korea kidnapped at least 17 Japanese nationals in the 1970s and '80s.

In September 2002, when then-prime minister Junichiro Koizumi visited Pyongyang, then-North Korean leader Kim Jong Il admitted for the first time that Japanese citizens had been abducted, and five abductees returned to Japan in October of that year.

But the Japanese government says North Korea has not offered adequate explanations for the fate of the rest of the Japanese abductees, including Megumi Yokota, kidnapped by North Korean agents at the age of 13 in 1977. North Korea insists that the abduction issue has already been resolved.

The exact number of the Japanese abductees is still unknown; some experts claim hundreds, others claim dozens.

There is widespread belief among Japanese experts that Pyongyang knows the whereabouts of those missing Japanese nationals, even without conducting any re-investigation, as North Korea still tightly restricts the movement of citizens. Those experts believe Pyongyang is using this abduction issue as a diplomatic card against Tokyo.

During the third round of official talks, North Korea's negotiators also reportedly expressed concerns over a plan to sell the Tokyo headquarters building of Chongryon, the main pro-North Korea organization in Japan. The Tokyo High Court recently dismissed an appeal filed by Chongryon against the sale of the building and land to Marunaka Holdings, a property investment company based in Takamatsu City, Kagawa Prefecture in western Japan.

Chongryon headquarters has for decades served as North Korea's de facto embassy in Japan, as the two nations have no bilateral diplomatic relations.

The Japanese side explained that the government has no authority to intervene in the legal procedures of the sale. The North Korean side has said it is necessary for Tokyo to resolve the issue of the sale of Chongryon's headquarters building if it wants Pyongyang to reinvestigate the abductions of Japanese nationals.

North Korean media have not yet reported on the latest round of talks with Japan.