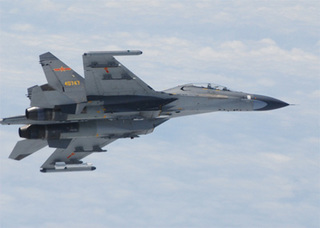 Chinese Su-27s buzz Japanese patrol aircraft over East China Sea for second time
Kosuke Takahashi, Tokyo and James Hardy, London - IHS Jane's Defence Weekly

11 June 2014

Japan's Ministry of Defence (MoD) on 11 June said that two Chinese Su-27 'Flanker' fighter aircraft had flown very close to Japan Self-Defense Forces aircraft over the East China Sea for the second time in less than a month.

According to MoD officials, a People's Liberation Army Air Force Su-27 flew to within 30 m of a Japan Air Self-Defense Force YS-11EB electronic intelligence aircraft at around 11.00 am-12.00 pm local time on 11 June.

At around the same time, another Su-27 fighter flew to within 45 m of a Japan Maritime Self-Defense Force Kawasaki OP-3C reconnaissance aircraft. Neither of the Japanese aircraft suffered any damage.

A similar incident on 24 May was - at the time - the closest Chinese fighters had flown to JSDF aircraft.

"Including the previous incident, theses unilateral acts by Chinese aircraft are extremely dangerous and could cause accidents," Japanese Defence Minister Itsunori Onodera told reporters. "I just hope Chinese military forces have sound moral standards."

The Japanese Ministry of Foreign Affairs also protested to the Chinese Embassy in Tokyo.

As with the 24 May encounters, the latest incident took place in international airspace about halfway between Japan and China in the East China Sea. The site is also where air defence identification zones (ADIZ) established by the two countries overlap. China declared its own ADIZ in November 2013 despite protests by Japan and the United States.

Onodera reiterated Tokyo's call to construct a maritime communication mechanism including high-level hotlines between the defence authorities of Japan and China. The two countries agreed to establish the hotline in June 2012 but this process stalled in September 2012 when the Japanese government nationalised three islands in the Senkaku/Diaoyu island chain.

The incident also occurred as the defence and foreign ministers of Japan and Australia started a "2-plus-2" meeting in Tokyo at which bilateral security co-operation was top of the agenda.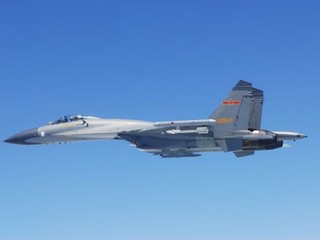 ANALYSIS
Based on a photograph provided by the Japanese MoD, IHS Jane's contributor Mike Yeo identified the aircraft as a Su-27UBK belonging to the Chongqing-based 98th Air Regiment. Aircraft from the unit were involved in the 24 May incident.

As in that interception, the Chinese aircraft were carrying what appeared to be R-73 (AA-11 'Archer') short-range air-to-air missiles.

After the 24 May incident Chinese defence officials said that the two Japanese surveillance aircraft had entered China's ADIZ and interfered "with joint naval exercises between China and Russia" for which a "no fly" notice had been issued. In this case there were no exercises under way, suggesting instead that China is beginning to patrol its ADIZ and put pressure on Japanese aircraft in the airspace above the East China Sea, much as it has put pressure on the Japan Coast Guard and the JMSDF's surface fleet at sea level.

Related articles:

Shangri-La Dialogue: China condemns US, Japan for 'provocative' remarks
News analysis: Recent fast jet missions suggest growing Chinese confidence
Japan reiterates calls for military hotline with China

(490 words)